ENTRANTES

Racción
Jamón Ibérico de bellota.
Acorn-fed Iberico pork ham hand cutted.
27,00 € 16,00 € (media ración)
Degustación de quesos de salamanca. (1,7)
Salamanca's cheese tasting. (1.7)
19,00 € 13,00 € (media ración)
Croquetas de Jamon Ibérico de bellota. (8ud) (1,3,7)
Acorn-fed Iberico ham croquettes. (8 units) (1,3,7)
14,00 €
Ensalada de bogavante acevichado y brotes tiernos (2,12)
Acevichado lobster salad and green sprouts (2.12)
24,00 €
Burrata, chutney de tomate y galleta de parmesano. (7,8,12)
Burrata, tomato tartar, gremolata and parmesan cheese. (7,8,12)
15,00 €
Ensalada templada de perdiz escabechada, escalibada y mango. (1,6,11,12)
Warm salad of pickled partridge, roasted vegetables and mango. (1,6,11,12)
18,50 €
Tartar de salmón en teriyaki, aguacate y yogurt. (4,6,7,12)
Salmon tartar in teriyaki, avocado and yogurt. (4,6,7,12)
19,00 €
Nuestro micuit con mermelada de higos. (1,12)
Our micuit with fig jam. (1.12)
22,50 €
Steak tartar de chuleta madurada (50 días)(1,3,6,7,10,12)
Steak tartar of matured beef chop (50 days)(1,3,6,7,10,12)
22,00 €
Anchoa López y aliño al Jerez. (1,4,12)
López anchovy and Jerez wine dressing. (1,4,12)
22,00 €
Sardina ahumada (4)
Smoked sardine (4)
17,50 €
Chipirones, emulsión de pimientos confitados y salsa de mantequilla. (3,4,7,12)
Baby squids, emulsion of candied peppers and butter sauce. (3,4,7,12)
19,50 €
Langostinos en tempura, guacamole, pico de gallo y perlas de albahaca.(1,2,3,4,7,12)
Shrimp tempura, guacamole, pico de gallo and basil pearls.(1,2,3,4,7,12)
20,00 €
Nuestras verduras en texturas, confitura de manzana y teriyaki de frutas.(1,6,7,11,12,14)
Our vegetables in textures, apple jam and fruit teriyaki.(1,6,7,11,12,14)
18,00 €
Boletus salteados con jamon ibérico, foie y huevo a baja temperatura. (3,7,12)
Sauteéd mushrooms with iberico ham, foie and egg at low temperature.
20,50 €
Mollejas de cordero lechal glaseadas con setas y micuit. (12)
Glazed lamb sweetbreads with mushrooms and micuit. (12)
23,00 €
Zamburiñas gratinadas al limón (10 ud) (7,14)
Scallops au gratin with lemon (10 units) (7.14)
22,00 €
Flor de alcachofa, trufa (tuber aestivium) y huevo poché. (3,12)
Artichoke flower, truffle (tuber aestivium) and poached egg.(3.12)
21,50 €

Arroces

Arroz meloso de carabineros, cigala a la plancha y huevas de langosta (2,4,7,12,14)
Shoggy shrimp rice and grilled Norway lobster with lobster roe (2,4,7, 12,14)
30,00 € /16,00 €
Risotto de rabo de toro, setas, parmesano y foie (7, 12)
Bull tail risotto, mushrooms, parmesan and foie (7. 12)
20,00 €

Pescados

Merluza asada en salsa ligera de berberechos (1,7, 12,14)
Roasted hake in light cockle sauce (1.7, 12.14)
24,00 €
Bacalao al horno en marinera de gambas. (1,2,7, 12)
Baked cod in shrimp marinara sauce. (1,2,7, 12)
27,00 €
Pulpo, patata arrugada y aceite picual. (4)
Octopus, wrinkled potato and picual olive oil. (4)
28,00 €
Lomo de rodaballo al pil-pil de ajos. (4)
Turbot loin with garlic pil-pil sauce. (4)
27,50 €
Rape con gulas y trigueros. (2,4,12)
Anglerfish with gulas and green asparagus. (2,4,12)
26,00 €

Carnes

Magret de pato, frutos rojos y mostaza. (10,12)
Duck magret, berries and mustard. (10,12)
24,00 €
Pluma Ibérica de bellota y salsa cazadora. (7, 12)
Acorn-fed Iberico pork loin and hunter sauce. (7, 12)
27,00 €
Nuestro solomillo de ternera madurado y salsa de setas. (7, 12)
Our matured beef tenderloin with mushroom sauce. (7, 12)
30,00 €
Paletilla de cordero lechal en esencia de romero a baja temperatura. (6, 12)
Suckling lamb shoulder in rosemary essence at low temperature. (6, 12)
31,00 €
Costilla de ternera a baja temperatura durante 12 horas. (7, 10,12)
Veal ribs at low temperature for 12 hours. (7, 10,12)
22,00 €

Postres

Tarta de queso de torta del casar. (3,7)
Torta del Casar cheesecake. (3.7)
7,50 €
Arroz con leche estilo asturiano a la menta caramelizado. (7)
Asturian-style rice pudding with caramelized mint. (7)
7,00 €
Nuestra versión del tiramisú. (1,3,7)
Our version of tiramisu. (1,3,7)
6,50 €
Milhoja de crema y merengue. (1,3,7,8)
Mille-feuille with cream and meringue. (1,3,7,8)
7,00 €
Surtido de helados. (consultar alérgenos)
Ice Creams. (consult allergies)
7,50 €

NUESTROS POSTRES HECHOS AL MOMENTO (15 MINUTOS)

Coulant de chocolate C&C. (1,3,7,8)
C&C chocolate coulant. (1,3,7,8)
7,00 €
Tartaleta de manzana caramelizada.(1,3,7,8)
Caramelized apple tartlet.(1,3,7,8)
7,50 €
Tabla de alérgenos
GLUTEN (1) – CRUSTÁCEOS / SHELLFISH (2) – HUEVO / EGGS (3) – PESCADO / FISH (4) – CACAHUETES / PEANUTS (5) – SOJA / SOY (6) – LÁCTEOS / MILK (7) – FRUTOS SECOS / NUTS (8) – APIO/ CELERY (9) – MOSTAZA / MUSTARD (10) – SÉSAMO / SESAME (11) – SULFITOS / SULFITES (12) – ALTRAMUCES / LUPINS (13) – MOLUSCOS / SHELLFISH (14)
SERVIMOS TAPAS EN LA TERRAZA DE LUNES A JUEVES
TAPAS GOURMET DE TEMPORADA

Restaurante
Tosta de berenjena asada, bacalao ahumado y romescu. (1,4,8)
Roasted eggplant toast, smoked cod and romescu sauce. (1,4,8)
5,50 €
Croquetas de jamón Ibérico de bellota. (4 ud) (1,3,7)
Acorn-fed Iberico ham croquettes. (4 units) (1,3,7)
7,00 €
Zamburiñas gratinadas al limón. (3 ud)(2,7)
Scallops au gratin with lemon. (3 pcs)(2.7)
7,50 €
Ensalada templada de perdiz escabechada, escalibada y mango. (1,6,11,12)
Warm salad of pickled partridge, escalibada and mango. (1,6,11,12)
7,00 €
Tartar de salmón en teriyaki y aguacate.(4,6,7,12)
Salmon tartar in teriyaki and avocado.(4,6,7,12)
8,50 €
Micuit de pato C&C.(1,12)
Duck micuit C&C.(1.12)
9,00 €
Steak tartar de chuleta madurada 50 días.(1,3,6,7, 12)
Steak tartar of beef chop matured for 50 days.(1,3,6,7, 12)
9,50 €
Sardina ahumada (3 ud)(4)
Smoked sardine (3 units)(4)
7,00 €
Anchoa López y aliño al Jerez. (4 ud)
López anchovy and Jerez dressing. (4 units)
8,50 €
Patatas, huevo, jamón y micuit.(1,3, 12)
Potatoes, egg, ham and micuit.(1,3, 12)
6,50 €
Tortilla de patata al momento.(3)
Potato omelette at the moment.(3)
7,00 €
Tortilla de bacalao al momento.(3,4)
Cod omelette at the moment.(3.4)
7,50 €
Chipirones, emulsión de pimientos confitados y salsa de mantequilla. (3,6,9,10,12,14)
Baby squid, candied pepper emulsion and butter sauce. (3,6,9,10,12,14)
7,50 €
Pan cristal de chipirón a la andaluza y kimchi.(1,3, 14)
Andalusian style squid, crystal bread and kimchi.(1,3, 14)
7,50 €
Flor de alcachofa, parmesano y aceite al tartufo.(7,8, 12)
Artichoke flower, parmesancheese and tartufo oil.(7,8, 12)
7,00 €
Langostinos en tempura, guacamole, pico de gallo y perlas de albahaca.(1,2,3,4,7, 12)
Prawns in tempura, guacamole, pico de gallo and basil pearls.(1,2,3,4,7, 12)
7,50 €
Miniburguer de Ibérico y ternera al 50%, queso curado y nuestro alioli de trufa.(1,3,7)
Iberico pork and veal miniburger, cured cheese and our truffle alioli.(1,3,7)
8,50 €
Brocheta de solomillo, pan brioche y piña asada.(1,2,3, 12)
Sirloin skewer, brioche bread and grilled pineapple.(1,2,3, 12)
9,50 €
Risoto de rabo de toro, setas, parmesano y foie.(7, 12)
Bull tail risotto, mushrooms, parmesan and foie.(7, 12)
7,50 €
Mollejas de cordero lechal glaseadas con setas y micuit.(12)
Glazed suckling lamb sweetbreads with mushrooms and micuit.(12)
7,50 €
Taco de bonito y confitura de tomate.(4)
Tuna brick and tomato jam.(4)
7,00 €

Cervezas y Vermuts

VERMUT PETRONI Blanco/Tinto
3,50€
CAÑA
3,30€
BOTELLÍN
3,30€
ALHAMBRA RESERVA
3,80€
MAHOU SIN GLUTEN
3,30€
MAHOU 0'0 TOSTADA
3,30€
TINTO DE VERANO CASERO
3€

Refrescos

COCA COLA o similares
3,30€
AQUARIUS
3,50€
ZUMOS / BATIDOS
3,30€
CAFÉ O TÉ
1,80€

Combinados

Básicos
6,80€
Premium
8,40€
Tabla de alérgenos
GLUTEN (1) – CRUSTÁCEOS / SHELLFISH (2) – HUEVO / EGGS (3) – PESCADO / FISH (4) – CACAHUETES / PEANUTS (5) – SOJA / SOY (6) – LÁCTEOS / MILK (7) – FRUTOS SECOS / NUTS (8) – APIO/ CELERY (9) – MOSTAZA / MUSTARD (10) – SÉSAMO / SESAME (11) – SULFITOS / SULFITES (12) – ALTRAMUCES / LUPINS (13) – MOLUSCOS / SHELLFISH (14)
LA COMIDA NOS UNE
DE LUNES A VIERNES A MEDIODIA.
PÍDELO POR POR TELÉFONO AL:
622 578 959 · 923 055 342
PRECIO MENU: 21.00 €
Incluye agua y pan. IVA incl.
POR FAVOR CONSULTE CUALQUIER DUDA SOBRE ALÉRGENOS.
Primeros a elegir / First courses to choose
Verdinas y choricitos asturianos.
Beans and asturian red sausage.
Crema de calabaza, cardamomo y queso ricotta.
Pumpkin cream, cardamom and ricotta cheese.
Ensalada de hojas tiernas con queso cremoso, salmón ahumado, y tapenade de aceituna verde.
Green sprouts salad with cream cheese, smoked salmon and olives tapenade.
Arroz meloso de chipirón.
Soggy cuttlefish rice.
Pasta carbonara alla italiana.
Pasta carbonara alla italiana.
Segundos a elegir / Second courses to choose
Solomillo de Ibérico a la mostaza y miel de romero.
Iberico pork tenderloin with mustard and rosemary honey.
Terrina de ternera y ciruelas pasas.
Beef terrine and prunes.
Corvina, ajetes confitados y parmentier.
Sea bass, confit spring onions and parmentier.
Rapito en crema de pimentón de la Vera.
Anglerfish in Pimentón de la Vera (paprika) cream.
Pescado de temporada.
Seasonal fish.
Postres a elegir / Desserts to choose
Tiramisú C&C.
Our Tiramisu
Brownie de nutella y helado de leche merengada.
Nutella brownie and leche merengada ice cream.
Fruta de temporada.
Seasonal fruit.
Yogurt Artesano
Artisan yogurt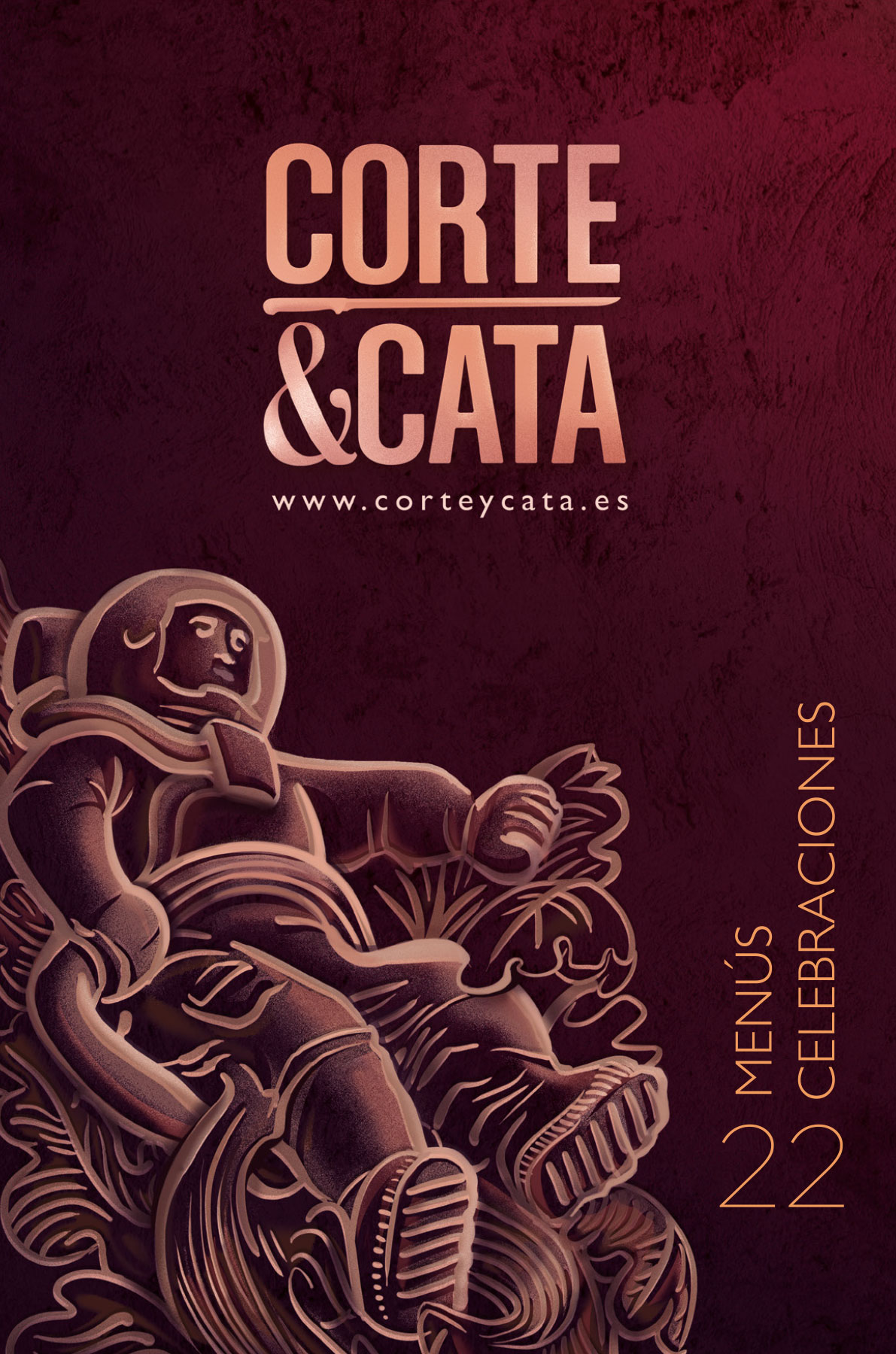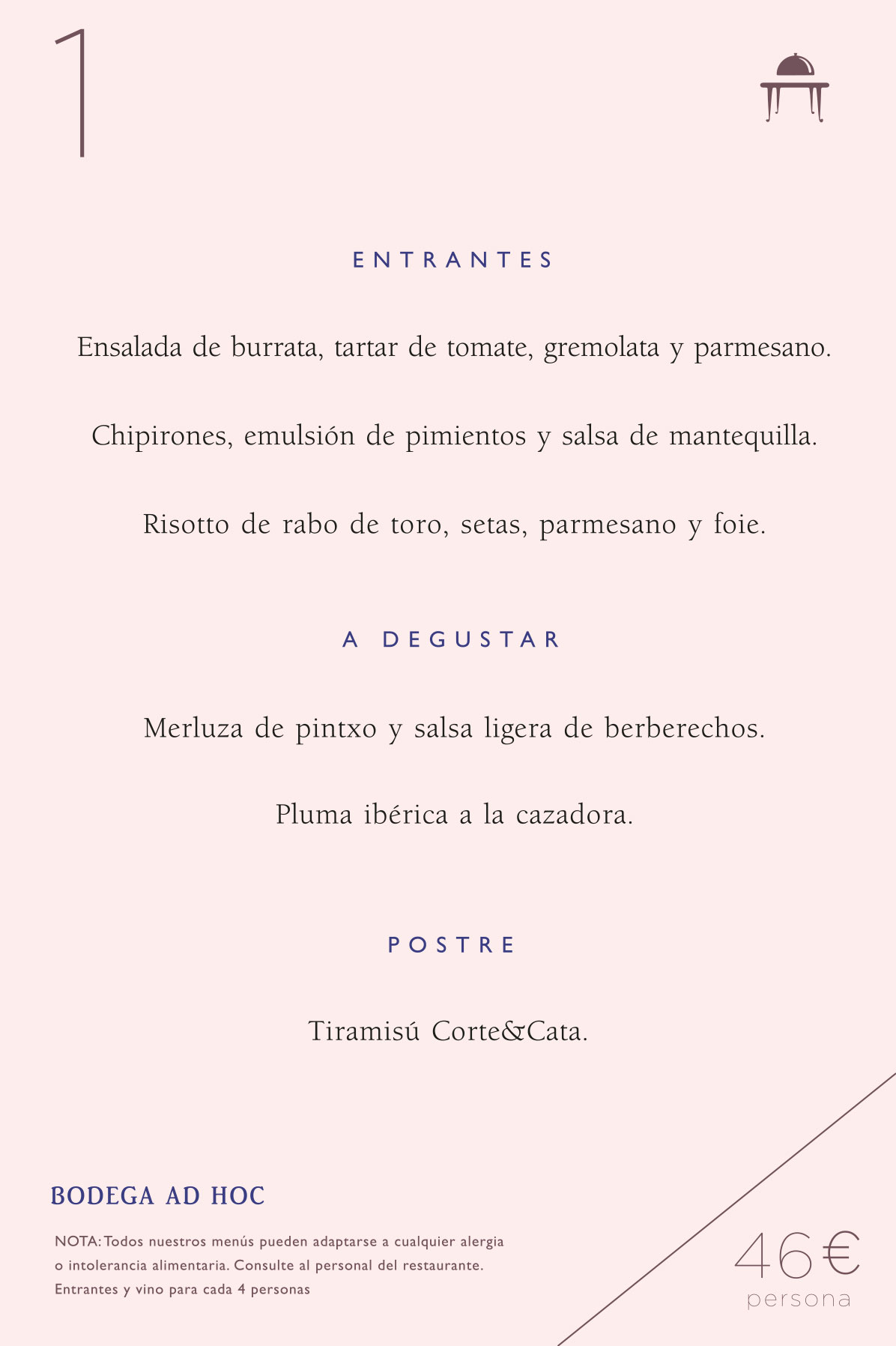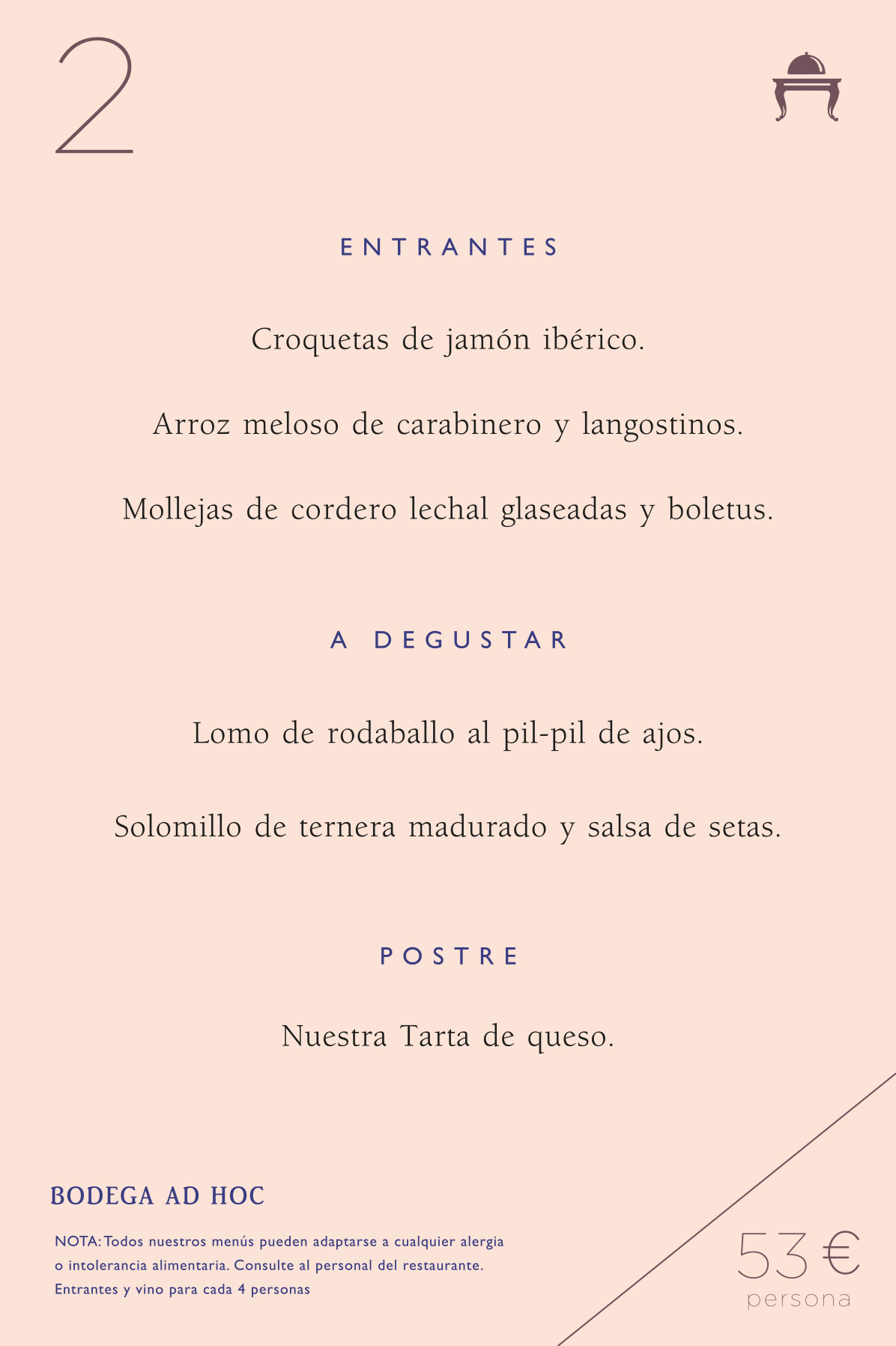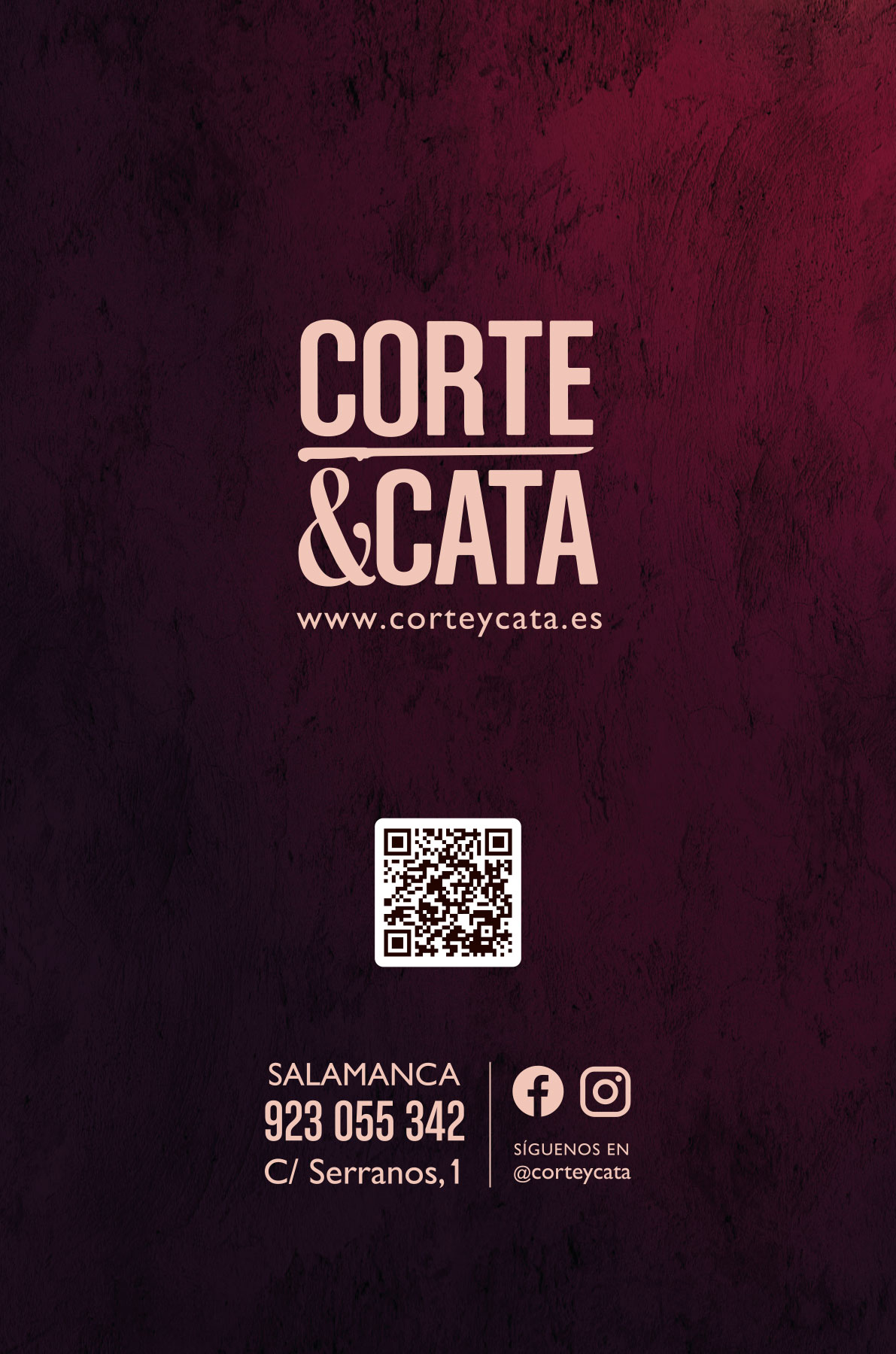 Debido a las medidas sanitarias actuales, cualquier servicio para grupos debe ser consultado directamente con el personal del restaurante, en el telefono 923 055 342 o el email [email protected]
Gracias por su confianza en Grupo Corte&Cata.
EL RESTAURANTE
Situado en pleno casco antiguo de Salamanca,
nuestro restaurante ofrece una experiencia
gastronómica sin igual enmarcada por unas
vistas de la ciudad difíciles de olvidar.
NUEVO HORARIO
HORARIO:
Lunes: 13:30 a 16:00h y de 20:30 a 00:00h
Martes: Cerrado
Miercoles: 13:30 a 16:00h y de 20:30 a 00:00h
Jueves: 13:30 a 16:00h y de 20:30 a 00:00h
Viernes: 13:30 a 16:00h y de 20:30 a 00:00h
Sabado: 13:30 a 16:00h y de 20:30 a 00:00h
Domingo: 13:30 a 16:00h y de 20:30 a 00:00h
REDES SOCIALES