ENTRANTES

Racción
Jamón Ibérico de bellota.
Acorn-fed Iberico ham, hand carved.
27,00 € 15,00 € (media ración)
Lomito Ibérico de bellota.
Acorn-fed Iberico loin.
24,00 € 13,50 € (media ración)
Degustación de quesos de salamanca. (1,7)
Salamanca cheese tasting.
18,00 € 10,00 € (media ración)
Croquetas de Jamon Ibérico de bellota. (8ud) (1,3,7)
Iberico ham croquettes.
13,50 €
Carpaccio de lomo bajo, lascas de parmesano y vinagreta de manzana de manzana verde. (7,10,12)
Veal loin carpaccio, parmesan slices and green apple dressing.
18,00 €
Burrata, chutney de tomate y galleta de parmesano. (7,8,12)
Burrata cheese, tomato chutney and parmesan chip.
15,00 €
Ensalada de perdiz escabechada, confitura de violeta y wakame aliñada. (1,6,11)
Marinade partridge salad, violets jam and wakame dressing.
18,00 €
Nuestra ensalada capresse con caballa curada y aliño de oliva verde. (4,7,12)
Our caprese salad with cured mackerel and green olives dressing.
18,00 €
Tartar de salmón en teriyaki y aguacate. (4,6,7,12)
Salmon tartar in teriyaki sauce and avocado.
19,00 €
Micuit de pato C&C. (1,12)
Duck micuit C&C.
21,00 €
Steak tartar de ternera, yema a 65°C y perlas de guindilla. (1,3,6,7,10,12)
Veal steak tartar, egg yolk at 65ºC and chilli pearls.
21,50 €
Anchoa de Santoña en aliño de Jerez. (1,4,12)
Santoña's anchovy in Jerez sherry.
21,00 €
Sardina ahumada (8ud) (4)
Smoked sardine
17,50 €
Chipirones con chutney de piña y ali-oli de ajo negro. (1,3,6,9,10,12,14)
Cuttlefish with pineapple chutney and black garlic ali-oli.
17,50 €
Langostinos en tempura, guacamole, pico de gallo y perlas de albahaca. (1,2,3,4,7,12)
Prawns in tempura, guacamole, pico de gallo and basil pearls.
19,50 €
Verduras en texturas, confitura de manzana y teriyaki de frutas. (1,6,7,11,12,14)
Vegetables in textures, apple jam and fruit teriyaki.
18,00 €
Boletus salteados con jamon ibérico, foie y huevo a baja temperatura. (3,7,12)
Sauteéd mushrooms with iberico ham, foie and egg at low temperature.
20,50 €
Arroz meloso de carabineros y cigala a la plancha con huevas de langosta (2,4,7,12,14)
Shoggy rice with prawns and grilled norway lobster with their eggs
30,00 € /16,00 €
Flor de alcachofa glaseada, trufa (tuber aestivium) y huevo poché.(3,12,14)
Artichokes' flower, truffle (tuber aestivium) and poached egg.
21,00 €
 
 

Pescados

 
Bacalao al horno y holandesa de ajos. (3,4,7)
Roasted cod and garlic holladaise sauce.
26,00 €
Pulpo, cremoso de patata y aceite de la vera. (4,7)
Octopus, mashed potatoes adn olive oil.
33,00 €
Rodaballo y su ajo-pilpil. (4)
Turbot with its garlic-pilpil.
27,50 €
Pescados de temporada.
Seasonal Fish.
 
 
 

Carnes

 
Pluma Ibérica y salsa de rosáceas. (1,6,7,8,12)
Iberico pork and roses sauce.
26,50 €
Solomillo de ternera madurado, frutos rojos y foie gras. (12)
Matured veal tenderloin, red berries and foie gras.
30,00 €
Paletilla de cordero lechal D.O.P en esencia de romero a baja temperatura. (6,8,12)
D.O.P. Lambchop in rosemary essence at low temperature.
28,00 €
Costilla de ternera a baja temperatura durante 12 horas (12)
Veal ribs at low temperature cooking during 12 hours.
19,00 €
 
 

Postres

 
Tarta de Torta del Casar. (3,7)
Torta del Casar cheesecake.
7,00 €
Coulant de chocolate C&C (12 minutos) (1,3,7,8)
Chocolate coulant C&C (12 minutes)
7,50 €
Arroz con leche asturiano en esencia de menta caramelizado. (7,8)
Rice pudding in caramelized mint essence.
6,50 €
Nuestra versión del Tiramisú. (3,7,8)
Our tiramisu version.
6,50 €
Milhoja francesa.(1,3,7,8)
French mille-feuille.
7,00 €
Helados Artesanos. (consultar alérgenos)
Artisan ice creams. (consult allergies)
7,50 €
Tabla de alérgenos
GLUTEN (1) – CRUSTÁCEOS / SHELLFISH (2) – HUEVO / EGGS (3) – PESCADO / FISH (4) – CACAHUETES / PEANUTS (5) – SOJA / SOY (6) – LÁCTEOS / MILK (7) – FRUTOS SECOS / NUTS (8) – APIO/ CELERY (9) – MOSTAZA / MUSTARD (10) – SÉSAMO / SESAME (11) – SULFITOS / SULFITES (12) – ALTRAMUCES / LUPINS (13) – MOLUSCOS / SHELLFISH (14)
SERVIMOS TAPAS EN LA TERRAZA DE LUNES A JUEVES
TAPAS TEMPLADAS

Restaurante
Tosta de berenjena, bacalao ahumado y romescu. (1,4,8)
Eggplant tapa, smoked cod and romescu sauce.
5,50 €
Ensalada de perdiz escabechada, confitura de violeta y wakame aliñada. (1,6,11)
Marinated partridge salad, violets jam and wakame dressing.
7,00 €
Tartar de salmón en teriyaki y aguacate. (4,6,7,12)
Smoked teriyaki salmon tartar and avocado.
8,50 €
Micuit de pato C&C.(1,12)
Duck micuit C&C.
8,50 €
Steak tartar de ternera, yema a 65°C y perlas de guindilla.(1,3,6,7,10,12)
Veal steak tartar, yolk at 65ºC and chilli pearls.
9,50 €
Sardina ahumada (3ud) (4)
Smoked sardine.
6,50 €
Anchoa de Santoña en aliño de Jerez. (1,4,12)
Santoña's anchovie in sherry dressing.
8,50 €
Patatas, huevo, jamón y micuit. (1,3,12)
Potatoes, egg, ham and micuit.
6,50 €
Croquetas de Jamon Ibérico de bellota. (4ud) (1,3,7)
Iberico ham croquettes.
6,50 €
Tortilla de patata. (3)
Spanish tortilla.
5,50 €
Tortilla de bacalao. (3,4)
Spanish tortilla with cod.
6,00 €
Chipirones, chutney de piña y ali-oli de ajo negro.(3,6,9,10,12,14)
Cuttlefish, pineapple chutney and black garlic ali-oli.
7,00 €
Pan de cristal con chipirón a la andaluza y alio de kimchi. (1,3,14)
Cristal bread with breaded cuttlefish and kimchi oil.
7,50 €
Alcachofa al pesto y carpaccio de lomo bajo. (7,8,12)
Artichoke al pesto and shirloin carpaccio.
7,00 €
Langostinos en tempura, guacamole, pico de gallo y perlas de albahaca. (1,2,3,4,7,12)
Prawns in tempura, guacamole, pico de gallo and basil pearls.
7,50 €
Bacalao al horno y holandesa de ajos. (3,4,7)
Roasted cod and garlic hollandaise.
8,00 €
Mini-Hamburguesa de ternera con encurtidos de naranja, ali-oli trufado, berros baby y queso de oveja curado. (1,3,7,10,12)
Veal Mini-Burguer with orange pickles truffled alioli and sheep cheese.
7,00 €
Brocheta de solomillo de ternera con hígado de pato, pan brioche a la mantequilla y salsa de ciruelas. (1,2,3,12)
Skewered tenderloin with duck liver, brioche and plums sauce.
9,50 €
Salmorejo, emulsión de burrata y jamón ibérico. (1,7)
Salmorejo, burrata cheese emulsion and iberico ham.
7,00 €

Cervezas y Vermuts

VERMUT PETRONI Blanco/Tinto
3,50€
CAÑA
3,30€
BOTELLÍN
3,30€
ALHAMBRA RESERVA
3,80€
MAHOU SIN GLUTEN
3,30€
MAHOU 0'0 TOSTADA
3,30€
TINTO DE VERANO CASERO
3€

Refrescos

COCA COLA o similares
3,30€
AQUARIUS
3,50€
ZUMOS / BATIDOS
3,30€
CAFÉ O TÉ
1,80€

Combinados

Básicos
6,80€
Premium
8,40€
Tabla de alérgenos
GLUTEN (1) – CRUSTÁCEOS / SHELLFISH (2) – HUEVO / EGGS (3) – PESCADO / FISH (4) – CACAHUETES / PEANUTS (5) – SOJA / SOY (6) – LÁCTEOS / MILK (7) – FRUTOS SECOS / NUTS (8) – APIO/ CELERY (9) – MOSTAZA / MUSTARD (10) – SÉSAMO / SESAME (11) – SULFITOS / SULFITES (12) – ALTRAMUCES / LUPINS (13) – MOLUSCOS / SHELLFISH (14)
LA COMIDA NOS UNE
DE LUNES A VIERNES A MEDIODIA.
PÍDELO POR POR TELÉFONO AL:
622 578 959 · 923 055 342
PRECIO MENU: 19.50 €
Incluye agua y pan. IVA incl.
POR FAVOR CONSULTE CUALQUIER DUDA SOBRE ALÉRGENOS.
Primeros a elegir / First courses to choose
Arroz meloso de frutos del mar.
Soggy rice with seafood.
Ensalada César C&C.
Caesar salad C&C.
Pasta fresca al Neri di Sepia.
Fresh pasta alla Neri di Sepia (cuttlefish).
Gazpacho de toda la vida.
Traditional Gazpacho (vegetables cold soup).
Coca de hojaldre, roastbeef y mayonesa de pepinillos.
Puff pastry, roastbeef and pickle mayonnaise.
Segundos a elegir / Second courses to choose
Merluza en salsa de carabineros y txangurro.
Hake in prawns and crabs sauce.
Rapitos en velouté de sidra asturiana.
Anglerfish in Asturian cider velouté.
Entrecot de ternera y su demiglace.
Veal steak and its demiglace.
Solomillo de ibérico con guiso de setas y salsa de pimienta.
Iberico tenderloin with mushrooms and pepper sauce.
Pescado de temporada.
Seasonal fish.
Postres a elegir / Desserts to choose
Mousse de chocolate y avellana.
Chocolate and hazelnuts mousse.
Nuestro Tiramisú.
Our Tiramisu.
Fruta de temporada.
Seasonal fruit.
Yogurt Artesano
Artisan yogurt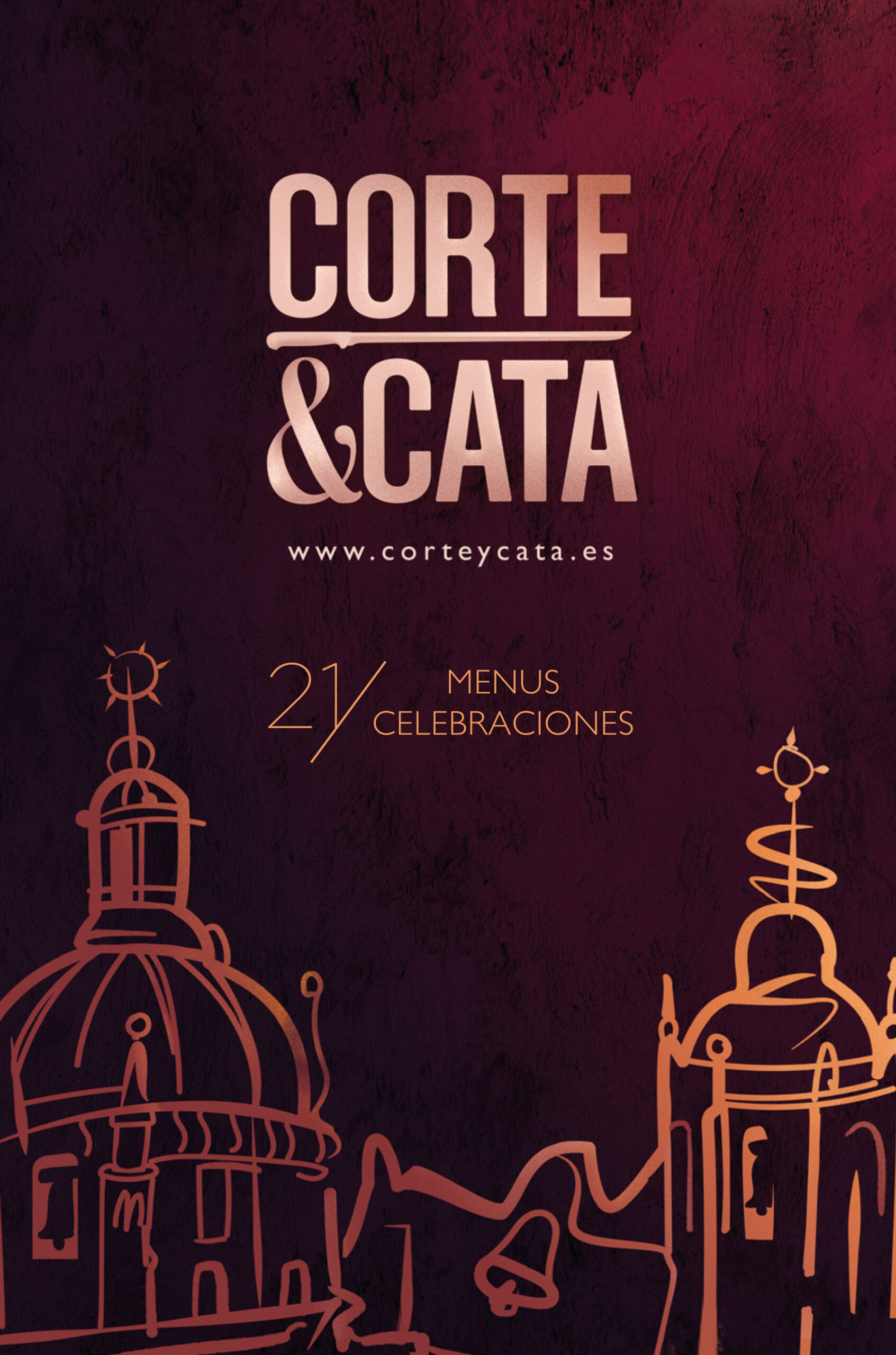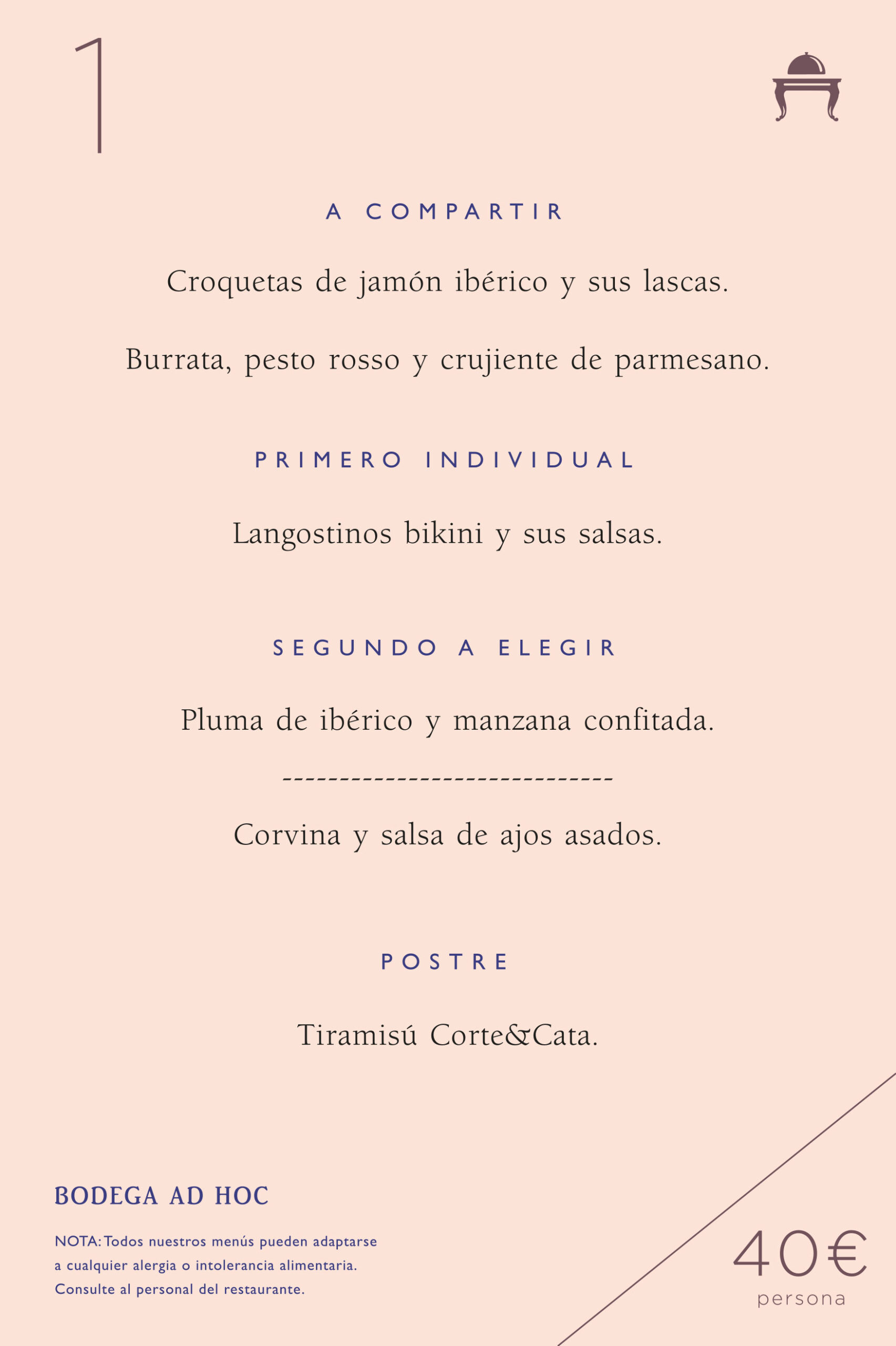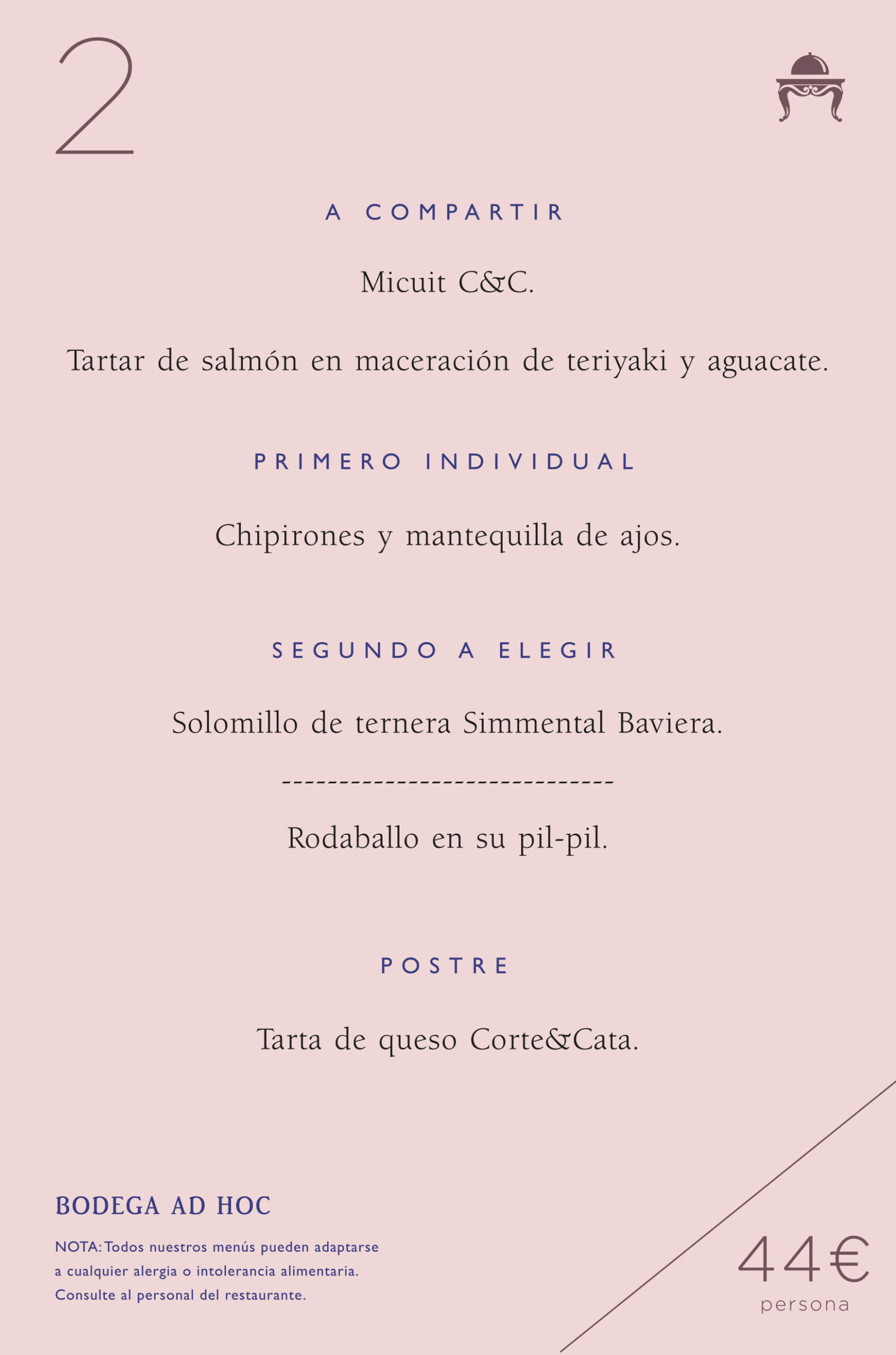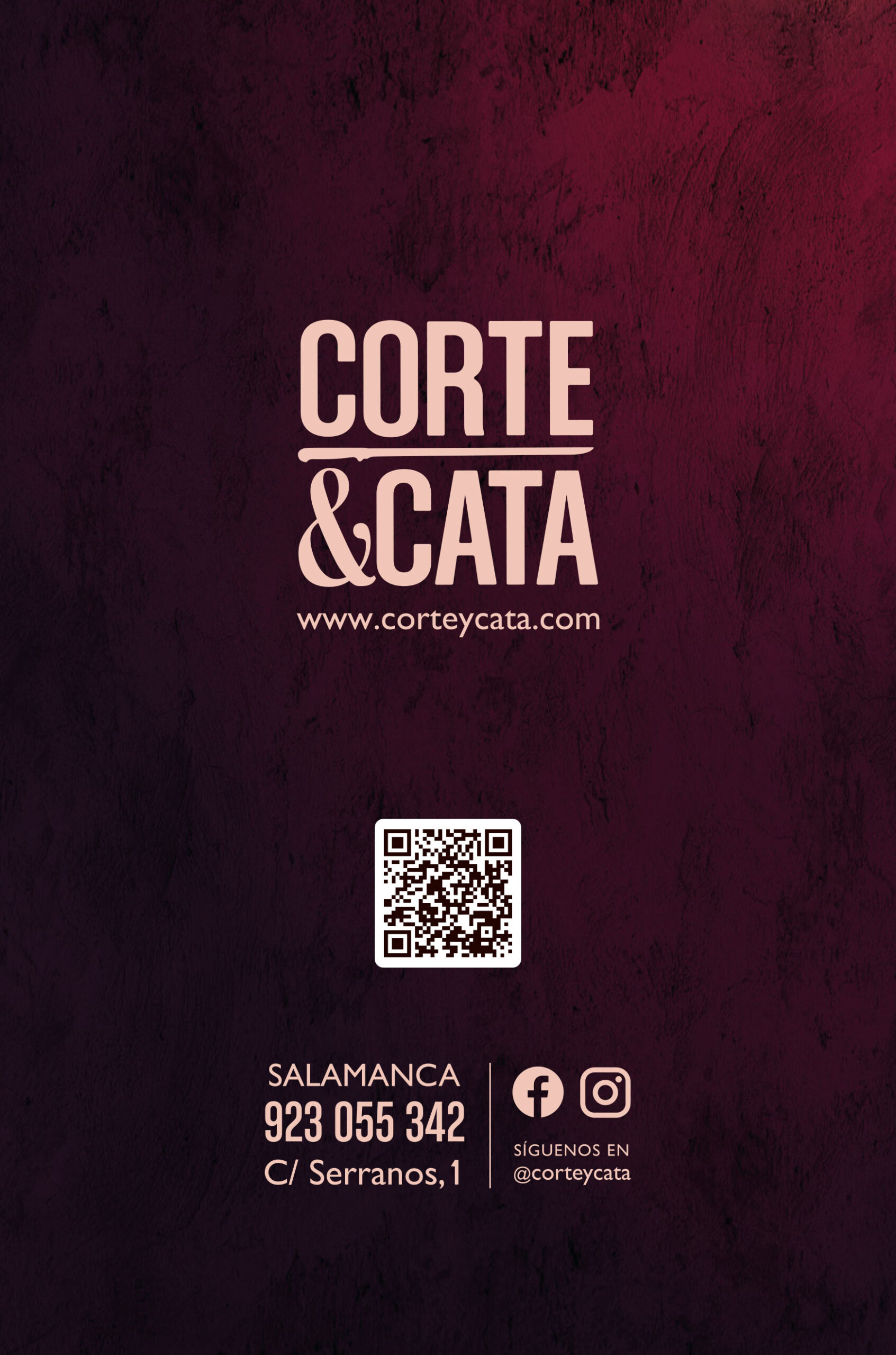 Debido a las medidas sanitarias actuales, cualquier servicio para grupos debe ser consultado directamente con el personal del restaurante, en el telefono 923 055 342 o el email [email protected]
Gracias por su confianza en Grupo Corte&Cata.
EL RESTAURANTE
Situado en pleno casco antiguo de Salamanca,
nuestro restaurante ofrece una experiencia
gastronómica sin igual enmarcada por unas
vistas de la ciudad difíciles de olvidar.
NUEVO HORARIO
HORARIO:
Lunes: 13:00 a 16:00h y de 20:00 a 00:00h
Martes: Cerrado
Miercoles: 13:00 a 16:00h y de 20:00 a 00:00h
Jueves: 13:00 a 16:00h y de 20:00 a 00:00h
Viernes: 13:00 a 16:00h y de 20:00 a 00:00h
Sabado: 13:00 a 16:00h y de 20:00 a 00:00h
Domingo: 13:00 a 16:00h y de 20:00 a 00:00h
REDES SOCIALES